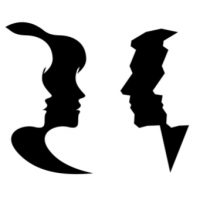 You have probably seen some of your friends on social media posting #MeToo. This is a campaign that started last weekend, encouraging women who have suffered sexual assault or harassment to post the hashtag #MeToo. The goal is to make people visualize the scope of the problem—that victims are not just people who are famous or high-profile, like those mentioned in news accounts of the Harvey Weinstein scandal. That they are regular people. People we know.
I have been astounded by the number of my friends who have posted #MeToo.
Related to this are social media posts talking about the little things men do, unconsciously, that may not rise to the level of harassment, but which reinforce the mistaken idea that women and men are unequal in status. This is a thing that has me concerned about my own behavior.
I have long called myself a feminist. I have always considered myself to be open-minded, fair, and respectful in dealing with the women in my life, especially those in my workplaces. I have had to be: at my last corporate job, which I left in 2003, I was the lone man in a department with 17 women. I got invited to the baby showers and shoe-shopping excursions just like everyone else, and it was a point of pride for me. If they're doing that, I thought, they must think I'm OK.
The ratio is not quite so extreme at Magic: of the 14 members of the Magic Crew, there are 10 women and four men. Based on my track record, I think to myself that I treat women in general, and those 10 women in particular, pretty well. But now I wonder: am I really treating them the way I think I'm treating them? What would they say about how I act toward them?
Maybe I should ask. Maybe things I think are wisecracks or compliments don't come off that way to my female colleagues and other women I know.
Some men—not me—are pushing back against the idea of even thinking about this stuff. They claim that there's no way to know what might be perceived as disrespectful by any given woman. "I can't please them all. What am I supposed to do? Say nothing?" Except they don't plan to say nothing. They plan to keep doing the same stuff they've been doing, even if it's perceived as belittling or threatening or worse.
If you're a man, throwing up your hands and doing nothing is a cop-out. The thing men should be learning from the #MeToo campaign and the various conversations around it is that thinking and change are no longer optional. Hard as they can be, they're no longer optional.
I hope I really am the open-minded, fair, and respectful-toward-women man I believe I am. However: in this world, it's no longer enough to have good intentions, and to hope that something you'd like to believe about yourself is true. Everybody has good intentions—but they're not worth much unless you follow through on them.
I'd better work harder at being the man I want to be, so there won't be a question anymore.
(If you have thoughts about this you would like to share with me, you can e-mail me. Copy my address into your e-mail program: jim.bartlett@magic98.com.)