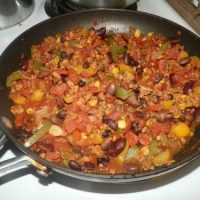 1/2 to 3/4 package of Gardein Beefless Ground
1 can  (15 oz.) Simple Truth organic tri-bean blend
1 can  (14.5 oz.) diced tomatoes with green chilies
1/4 cup each of red, green, yellow, and orange peppers, and frozen corn
Large shallot, sliced thin
Garlic, large clove sliced thin
Generous sprinkling of McCormick California style garlic pepper with red bell & black pepper
3 splashes of Tabasco sauce
Sea salt
In a skillet, sauté shallots, garlic, and peppers. Add salt. Add beans & garlic pepper. Stir. Cover for 2 or 3 minutes. Add Beefless Ground and Tabasco sauce, stir and cover. Add tomatoes and cover. Heat thoroughly.  Do not overcook. It's not meat!
For hot dip, serve on blue corn chips with sour cream and guacamole.
For a cold salad, blend in taco seasoning to taste, black olives, ½ cup more corn, and two cups of cooked, chilled pasta. (I like the radiators or spirals.)