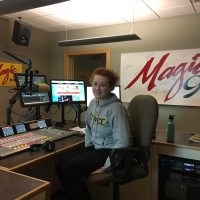 "Stand up for yourself, and it's better to ask advice than forgiveness."
This is Jim Bartlett's advice for me. He dropped into the office to say goodbye to me before my last day of work — which is today, November 17.
I wanted to tell you sooner, but I didn't know how. I am moving to Cleveland, and will be leaving my afternoon drive shift. I don't want to belabor the whole thing. I just wanted to give you a peace of mind.
Jim's advice comes from one of our many conversations over the past year-and-a-half-or-so about growing into the industry, and really owning the opportunities we as DJs have in front of us (though this could apply to other things in life, and I think Jim meant that, too.) We all want to be the best we can be. We want to be the person others can count on, all while fitting within these rigid rules and boundaries. You need to know your limits, and be confident in the things you're doing, and in why you're doing them. Sometimes — you have to break those rules, too.
No one ever doubted me. Quite the opposite — they encouraged me, and motivated me in ways I can't explain. I had fun, I made mistakes, I did a few things right, too. In all of that, I grew. Every single day I grow.
Without a doubt I grew with you, too. There are too many listener memories to share, but the two that stand out: my first ever Christmas card was from a listener (Karen K.) who heard me say I had never received one before. Another listener I had met through a Mugs and Muffins delivery (Sue K.) helped my mother who broke her leg earlier this year, and I now consider her a friend.
You, and Magic 98, have truly changed my life.
I don't need to tell you how wonderful the team here is, now my family more than anything — they are as wonderful, kind and thoughtful as you imagine them to be, if you have yet to meet them.
The things I've learned here, and the people I have come to know, will be with me for years to come.  Thank you for staying with me, and never doubting me.
Raina Bartell
P.S. — Trust in the future. We'll talk soon.