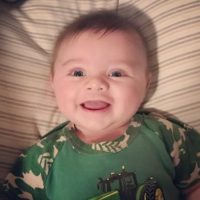 Logan is our latest Kid of the Week. He lives in Rio, he just turned four months old, and he already has two teeth. His mom, Jessica, also tells us, "He can roll over and loves to make noises! He's the light in our eyes along with his big brother Odin!"

Logan wins prizes from Madison Property Management and Thompson Investment Management. To learn more about them, and to sign up a great kid in your life to win next, click here.
To see pictures and learn about some of our other Kid of the Week winners, click here.