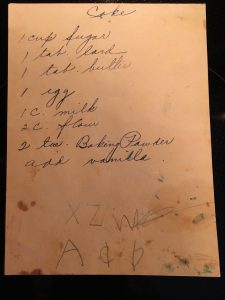 As I was pulling things out and dusting the kitchen this past weekend, a card fell out of an old handwritten recipe book of my grandmother's. At the top it simply said "Cake." It made me laugh as I said out loud, "What kind of cake, Grandma?"
These are the moments in life that I adore. A recipe card from the 1930s with just the ingredients and no instructions on how to make it. I'm taking it as a sign from my grandmother that I am to make this "cake." Since I'm not a completely unfortunate baker, I think I can figure this out. And I would be willing to bet $100 that those alphabet letters at the bottom of the card were written by my dad when he was learning them as a boy.
So, for Christmas this year, this "cake" will be one of the gifts for my dad. I'm going to present him with the card first to see if will bring back any memories for him. And if it doesn't, perhaps the "cake" will.
Live, laugh, love … and bake "Cake."