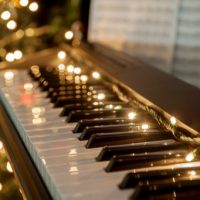 I grew up in a musical house. One of the bedrooms is still known as the "piano room," where my mother's upright piano has sat since the day my parents moved in, before I was born. I started piano lessons when I was eight, and I learned how to read music a little bit, which helped with my abortive career as a middle-school saxophone player. One of my brothers played guitar, eventually took up the trombone, and played in the band all through high school.
But there was more music in my house than that. Mother and Dad bought records and sang in the church choir (despite Dad's inability to carry a tune), and Mother frequently played the piano for fun, especially Christmas songs. We liked to put a big stack of Christmas records on the console stereo, filling the house with music while we put up the tree, or decorated Christmas cookies, or just for atmosphere. When I moved out on my own, I started buying Christmas records of my own. The Temptations Christmas Card was first, in 1982. I collected a few vinyl albums during the 80s, most notably the soundtrack from A Charlie Brown Christmas and Phil Spector's Christmas Album. Once the CD era began, I started buying more; in the download era, my Christmas library has exploded.
Although I am as irreligious as anybody you know, I like Christmas music, even religious Christmas music. I find no inconsistency in this, because I believe that even without Christianity, we would have something like the Christmas season anyhow—a time for expressing our love and appreciation to the people closest to us through acts of generosity and kindness. It would still be a season fired with magic, in which we're showered with good things for the simple reason that we're part of a human community. Because happiness has always moved human beings to song, we'd still have music that expresses those emotions. The symbols found in the songs might be different, but the joy would be the same.
What I believe about Christmas is this: the best "things" with which we are showered in this season are not material objects. The greatest gifts of the holiday season are not presents, but presence. That idea inspires a song that is always one of the first ones I want to hear every year: "Every Day Will Be Like a Holiday." There is no mightier version of it than the one Ross Bon and the Mighty Blue Kings, a Chicago band that used to play a little bit around Madison in the early 00s. Click here and turn it up.