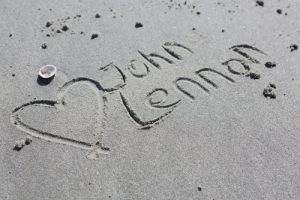 In December of 1980, John Lennon's comeback single, "(Just Like) Starting Over" was riding high on the charts. On December 8, 1980, a Monday, he was shot to death in New York City. This left the producers of American Top 40 with a dilemma. The show for the next weekend, December 13/14, had already been mailed to radio stations. With people around the world in mourning, it wouldn't be right for Casey to play "Starting Over" without mentioning the event.
Today, a program like AT40 would simply re-record the program segment and make it available for stations to download. (That's how we get AT40 each week.) But in 1980, the program was sent via the U.S. Mail as a box of four vinyl discs, one disc per hour of the show. So when the AT40 staff re-recorded the program segment containing "Starting Over," it had to be pressed onto a disc to replace the hour containing "Starting Over," and then mailed.
Ideally, the replacement would arrive in time. If it didn't, stations could go ahead and broadcast the program as it had been produced before Lennon's murder. AT40 executive producer Tom Rounds also suggested a third option—since "Starting Over" was the only song in that particular segment of the program, stations could simply skip the segment entirely and play their own copy of the song without an introduction or closing comment from Casey.
Nobody knows how many stations chose each option, although at least one major affiliate, WBBM-FM in Chicago, chose the third option. AT40 historian Pete Battistini says it was eerie to hear the song in the countdown without a word from Casey.
This Sunday's retro broadcast of American Top 40 will be that historic show from the weekend of December 13, 1980. Its connection with the death of John Lennon makes it one of the most unusual editions in the show's history. Hear it this Sunday between noon and 4 on Magic 98.