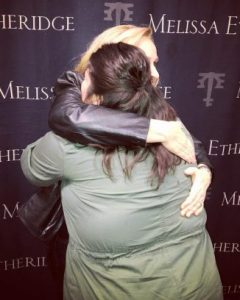 Hope you had a good weekend!
A great way to get through Monday is to play "Three-Word Weekend." You pick three words that describe your weekend. (That's it! No hard-hitting rules here.) Those three words can string together a sentence or they can be three separate words having nothing to do with each other—it's totally up to you!
I'll start … my three-word weekend was: "Hugged a rockstar."
Explanations for your TWW are not necessary, but today I feel like expanding on mine a little …
Saturday night, Melissa Etheridge's "Merry Christmas, Baby" tour stopped at the Crystal Grand in the Dells. Last week, I was lucky enough to get to talk to Melissa about the show and catch up with her about the holidays, what they mean to her, etc. (if you missed it, click here to listen to the interview later!) I knew it was going to be a great show, and I was really excited to add another music legend to my bucket of concert ticket souvenirs.
Before I fell asleep Friday night, I shared a short video clip on Twitter—basically a video selfie that I took during the phone call with Melissa last week—with the words, "Hey @metheridge! I'm coming to your show in the Dells tomorrow… can't WAIT!!! Thanks for the call this week to Magic 98 in Madison."
Lo and behold, Melissa Etheridge's social-media moderator, Angie from Texas, saw the video, and the next day I woke up to a message asking if I'd like to meet Melissa Etheridge. (Again, the answer to that is always a hard YES!) So, Saturday night before the show, I got to "hug a rockstar."
She went on to rock the house! The show was unbelievable. She didn't miss a beat. Just like she said in our interview, the show is a cool mix of holiday favorites and legendary Etheridge tunes. Hearing the entire Crystal Grand sing "I'm the Only One" was a moment that still gives me goosebumps!
Melissa mentioned during our interview that as a kid, she always wanted an electric guitar from Santa. She'd look through the JC Penney catalog and dream of an electric guitar … but didn't get one for Christmas. On Saturday night in the Dells, she must have changed guitars ten times. Man, can she shred! It was so much fun watching her have fun on stage with the crowd. In between songs, she gave mini motivational speeches, reminding the audience to "love yourself first. You can't take care of anyone if you don't take care of yourself!" She shared feel-good stories of her friend Tom Petty, and sang her version of John Lennon's "Happy Xmas."  You can see my pictures of the show below.
This might be the longest explanation for my Three-Word Weekend you'll ever get … it's a night I'll never forget, and that's what weekends are for, right?
Hope you had a good one! Share your "Three Word Weekend" with me! I'm the air on Magic 98 from noon til 3PM, and you can call me in studio at 321-0098. Email me at Jillene@Magic98.com or comment with your TWW on Facebook!