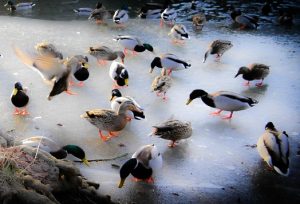 No matter how cold it gets, I must go for my walk every day. I'm lucky to live so close to the Yahara Trail! I do love being out in nature, and animals are really so interesting.
These days the geese and ducks sit on the ice floes, swim around, and goof off as if they cannot even feel the cold. I ponder this so often—what in the heck is a duck (or a goose) made of so that they can sit on ice and take a comfy snooze? I know we use goosedown to fill pillows and put inside our jackets to keep us warm, but man oh man that water is cold!
I finally figured it out. They have orange plastic legs so they don't feel anything.