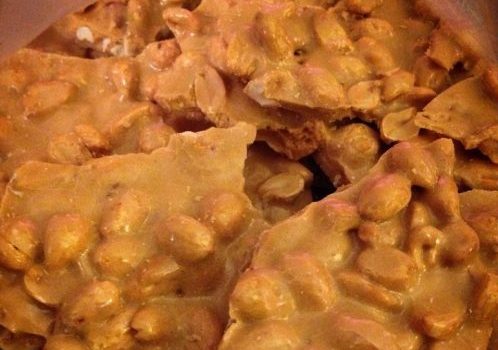 We are celebrating Christmas with my side of the family on Saturday the 23rd and with my fiancée's family on Christmas Day, and that has me thinking of peanut brittle. When I think of Christmas, the memories usually include peanut brittle … the making of it, the eating of it, the cravings after it's gone. I can almost taste it right now as I write this!
My mom is famous in our family, and has been since she was a kid, for her homemade peanut brittle. In fact, one year she wasn't allowed to eat dinner at my uncle's house (her brother's) because she forgot the stash of brittle at home!  Ever since I can remember, she would turn her kitchen into a brittle-making factory a few weeks before Christmas. I can't tell you how many days I'd come home from school and the windows in our house (at least on the kitchen side) were open—in the winter, in the Midwest. The first year I helped make brittle, I understood why she did this. It gets hot standing over a stove stirring brittle goo, and you can't not stir, because that'll burn the sugar, and no one wants burnt brittle! Seeing my mom fly from the stove to the table with her hot pot of brittle goo was a sight to see. You have to get it out of the pot and onto a sheet to cool before it goops up into a sticky, gross mess, so you have to have a bit of hustle. Once the concoction was cool … voila! Mom's dreamy peanut brittle was ours for the taking. Except, you had to be sneaky until the packaging process was over. It's very important that the brittle be divided equally for family and friends because fights started over someone's brittle bag being more full than someone else's.
It doesn't take much to make peanut brittle: sugar, Karo syrup, elbow grease, and … peanuts. As you can imagine, the peanuts are the most important thing, and the one thing standing in the way of me and my brittle this year! Ma always got her peanuts from the same place, the co-op in our hometown. Apparently, this year the co-op didn't cooperate, and the peanuts are nowhere to be found. So, now I'm on a wild-nut-hunt for raw, Spanish peanuts without their shell or casing because it simply will not be Christmas without my mother's peanut brittle! (Plus, I can't show up with Mom on Christmas at my family's on the 23rd without brittle … neither one of us will be able to eat dinner!
You probably have something that tastes like Christmas … a dish that gets passed only around the Christmas table, a treat that only comes out around the holidays, or a beverage that you only indulge in on New Year's. What is it? I'd love to hear from you!
Email me at Jillene@Magic98.com or reach out to me on Facebook at https://www.facebook.com/JilleneJillene/.