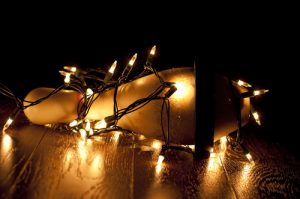 Some Christmases really hold up to the test of time. Back in the day, all my in-laws and I would celebrate the day by first going bowling. There were 20 of us taking over the lanes. They were all good bowlers, but if I broke 100, I was thrilled. It didn't matter, though. I got all kinds of advice to help me along, plus I was highly entertaining to them.
After stuffing ourselves with the kind of delightful food only bowling alley grills can supply (no one had to cook or clean up so that rated it high, too), we all would head to the movies. Dad would graciously pick up the tab. He took pride in taking his whole tribe out. We always took up a whole row. This was excellent in more ways then you would imagine.  It was marvelous to find a place where we could all sit together as a family. We'd all pick apart the movie, an intellectual feast we enjoyed over beers after it was over.
But what I remember most was my mother-in-law, God bless her soul, no matter what movie we went to, about 12 minutes into the film, her head would tilt back, and in the silence of the theater, which made it seem even louder, she would snore like a lumberjack. It was always the funniest part of the day.