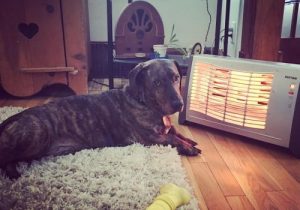 If I had a nickel for every time someone said to me, "You're from Minnesota/Wisconsin! You should be used to the cold," I'd have a big bag of nickels. Has anyone ever said that to you? As Midwesterners, we don't get used to the cold. We just live with it. And if we're lucky, we vacation to warm weather spots in the winter months!
When we can't leave Wisconsin for warmth, there are plenty of places in Madison to turn for fun. Shopping malls, indoor swimming pools, tanning salons … these places all help. But, what I'm really looking for is something that doesn't exist in many cold cities in the Midwest.
If I ever make it on Shark Tank, I'm bringing this idea with! Humans aren't the only one with cabin fever. As you can see from this picture taken last winter, my dog, Chester, is seriously suffering too. He's used to being outside. We love to take him for walks. Sometimes, he gets multiple walks a day since we don't have a fenced in yard, and we have to leash him for bathroom breaks. Chester loves going to the dog park, and I often joke that he's like the Walmart greeter of the dog park. It doesn't matter how far away he is from the entrance. When he sees a new dog come in, he jets over to say hello and welcome them in. (He takes after his mother with that trait. I can't seem to walk by a human without making eye contact or attempting to say hello.) What Chester doesn't love is going to the dog park when it's below freezing. Don't get me wrong, we have … but there are some days where the cold is too much to brave, and we (he) can only manage short bathroom breaks outside.
The bit of warm weather we had this week got me thinking about my Shark Tank idea again. Get this: Indoor dog park! Hear me out. I know there are doggy day-cares where I can drop my dog off at to play. But, what if I want to play with him? I've asked, and I haven't found a single one that lets people stay.
I think I have most of the details figured out: people could pay a monthly membership fee, like they do at the gym, then come and go as they please! All we need is a large indoor space, flooring that can handle anything, some garbage cans, and a vending machine that dispenses toys. (OK, maybe I don't have all the details hammered out.)
If you get to Shark Tank before I do, you can have the idea. I'll take a free life-time membership for Chester and me in exchange. 🙂
Get hold of me on Facebook or email me at Jillene@Magic98.com!