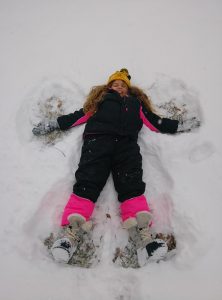 I'm generally a pretty positive person, but I admit that I am not a fan of snow. The older I get, the less I tolerate it. I'm plotting with my husband about getting an RV when we retire and driving it south from November through March every year. The kids can come to us for the holidays! If I can sit in my house and enjoy it without having to go out in it, I'm good. But days like that are rare indeed.
Sometimes you need someone to give you a different perspective on something you take for granted, like us Wisconsinites do with snow. Enter my beautiful eight-year-old cousin, Shelby. She is a Florida girl who has never experienced real snow. She and her dad came up to Wisconsin for a quick visit recently. Shelby was hoping to see snow! But we hit 50 degrees here the day before they flew in, and it was gone. All gone! We were all bummed for her! The one time I wanted the snow to stick around for her to see, and it didn't! Luckily, Mother Nature came through … she dumped five inches on us Sunday evening before they flew out on Monday! I've never been so happy to see snow! As you can see in this picture, Shelby had a blast in her brand new snow bibs and boots, and of course, a Green Bay Packers stocking cap. That's my girl.
So thanks, Shelby dear, for bringing the snow-loving kid spirit in me back, momentarily. Seeing your pure joy just from stomping around in the snow was the best. But I'm ready for it to melt again now. Come on, spring!