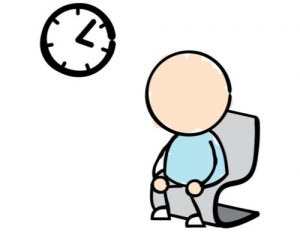 I forgot my kid! I knew it would happen. It's sort of inevitable, right? Right??
I had the day off Monday, so our schedule was already a little wacky. I took Roman, my littlest dude, to preschool and even managed to remember to pick him up at 11:30. We had lunch, and then this kid who hardly naps anymore, started acting tired. So I sat with him in the recliner, turned on some cartoons, and it didn't take much time until he was snoring. He had been so gooby lately that he needed some sleep to help get him on the healthy train, so I didn't even bother to put him in bed. I set my alarm for 3:00 just in case I fell asleep, too.
And at 2:15, my phone rang. I let it go to voicemail so that Roman wouldn't wake up. When it went to dictation, I saw that Everett was in the school office waiting to be picked up. I was so confused … was he sick? Did he do something so naughty that he was in the office and had to be picked up? And what on Earth was I gonna do with a sleeping kid on me? What's a mom to do?
DADDY!! Called my dad. Oh thank goodness he answered. I told him, "I'm not sure why Everett is in the office but could you pick—EARLY RELEASE!! It's Monday! Early release day!"
School had been out for almost a half-hour and I was sitting on the recliner in my living room. I failed as a mom.
Dad was already getting into his car before we ended our phone call. Everett was happy to see Grandpa. As he walked into the house, Roman woke up, and I got to hug my big guy. I said, "Everett, I'm so sorry." He said, "It's all right, Mom. It happens. But that sure was boring. Can I get a snack?"
So … maybe I failed this time, but I must've done something right, somewhere. What a fantastic little boy … and I get to be his mom. I hope he's still that cool that next time I forget him somewhere.