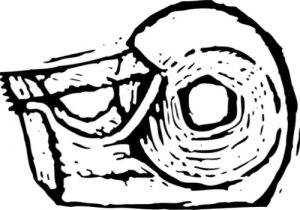 So the other day I walked into the Magic bullpen, the office we share, looking for some tape to seal up an envelope. I said to Ginger and Jillene, "Do either of you have any sticky tape?"
They both looked at me like I had two heads, so I decided I'd better explain. "Sticky tape, as distinct from recording tape."
Ginger paused for a moment and said, "So you mean tape, like over there?," and pointed toward the tape dispenser.
"Sorry about that," I said. "I guess I don't have to make that distinction anymore."
I started in radio nearly 40 years ago (!), when we used recording tape, so if you asked somebody at the radio station for tape, you needed to specify whether you meant recording tape or the sticky kind. As a result, the phrase "sticky tape" has remained in my vocabulary, even though recording tape started going out of style 20 years ago and is gone now. You might be able to find a tape machine in some forgotten closet in the basement of our building, but all of our recording is done digitally today. There are people in our building who have never used an actual tape machine, and probably a few who have never even seen one in action.
But my old-radio-guy brain still makes me differentiate between recording tape and sticky tape.
This got me thinking about all the stuff that's still part of my mental furniture (and maybe yours too) that won't be present in the minds of younger people. The sound of a dial tone. Hitting the carriage return when you finish typing a line. Taking film to the drugstore to be developed. TV stations and radio stations signing off at night and on in the morning. And so on.
I am not a person who is opposed to progress and change. I like my smartphone, and having dozens of channels on my TV. I like having my music library on a portable drive that fits in a shirt pocket. I like GPS navigation in the car. But I'm probably still going to ask you for sticky tape now and then. Sorry about that.