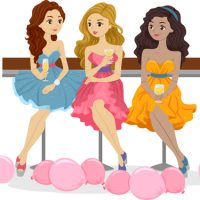 When I was in high school, I came very close to missing my senior prom. I didn't have a yearning desire to go, I didn't have a date, and I didn't have a dress. But that all quickly changed for me, just days before the big event.
I had a pretty decent-sized mix of male and female friends in high school. Some were in "relationships" but when it came to prom, most just paired up and coordinated outfits with each other to make one big group that planned on heading to the rite-of-passage together. Originally, I was not one of the members of the group to pair. I didn't even really want to go. After some good-natured peer-pressure from my best friend, and the realization that I was going to miss out on one of the biggest moments of my high school years, I scurried to find a dress and prayed that there'd be a salon in town with a last-minute opening for an updo.
With a hair appointment nailed down, there was only one thing standing in my way of making this a reality: the dress. How do you find a prom dress a week before prom? Luckily for me, it came from my cousin, Renee. Renee and I are only six weeks apart in age and had always worn the same size. When I needed a prom dress, there was only one store I was heading to… Renee's closet. She had the perfect one for me too—a dark red, short-sleeved, floor-length gown that she had worn as a bridesmaid for her sister's wedding. She had shoes and jewelry to match, and at this point, it didn't matter that my date to prom was 19 of my closest friends. I was going to look good! I felt good, and that's really all that matters when it comes to these kinds of things.
I have such fond memories of that day … getting my hair and makeup done at a salon with friends (my first experience with truly getting pampered), taking pictures with my best friends and their parents before we headed downtown, dinner at a fancy restaurant, dancing the night away… it was a memory I'll never forget, and it's hard to believe it's a memory I almost never had, if it hadn't been for that dress.
Next month, local young women from Madison will have the opportunity to shop for their dream prom dressed at an event planned each year by the Junior League of Madison. At All Dressed Up, girls get to shop for their perfect dress, accessories, shoes, you name it. Alterations are provided to make sure that the perfect dress fits perfectly, and it feels like it was made for them. Local celebrities, including me, will be matched with shoppers to help them navigate through the many styles and sizes of dresses.
Where do the dresses come from? That's where you come in. If you have formalwear that you haven't worn, here's a chance for you to make dreams come true. Let's face it; we all have at least one bridesmaid dress or formal gown bunched up in a pile in the pit of our closet that's probably never going to see daylight again. Let the dress experience life again, and give the gift of a prom memory to a local young lady.
It's easy to donate your dresses and accessories. You can drop them off at any area Klinke Cleaners location until Friday, February 16th. Thank you for making a local high school's dream of going to prom a reality!
PS here's the dress that made my dreams come true…
Email me at Jillene@Magic98.com or get in touch on Facebook.