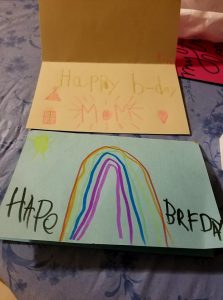 I celebrated my birthday not long ago. I'm far from 21, and with each birthday, I just can't believe how fast the years are flying by. I'm grateful for my years, as I know some who haven't had as many as me, but I still can't help feeling like "What is happening?!"
I am in what I call "the Glory Years." Our kids are small enough that they still like us and don't mind hanging out with us (most of the time). My husband and I both have our parents still with us, and they are all independent. We haven't even had to experience the loss of a pet in 13 years. Our furry babies are getting up there, but they are all still here to snuggle every day. So, I know how good I have it!
I got a bit teary this year when my kids handed me their homemade cards first thing in the morning on my birthday. My daughter was particularly proud of hers. She is in kindergarten this year. I realized that this was the first card I've gotten from her that she wrote on all by herself. She has been so excited to learn how to read and write this year, just like her big brother. It melted my heart and made me cry. It was the best "HAPE BRFDAY" card I've ever received.
That one's a keeper. The card and the kid.