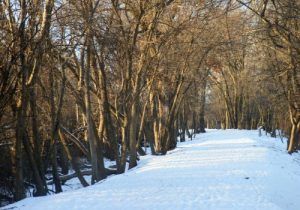 I am so very lucky that the Yahara River Trail is just walking distance from my home. It's wild enough to have deer, hawks, fox, snakes and and now the cranes have returned. It is along the creek that meets up with the Yahara River, so it's mapped for you, too. Bikes are allowed, animals on leash of course, and it's free. I love the winter months myself, with snow on the trees. Sunlight dappling between the trees is a photographer's delight.
During the summer months there are some serious insects that may stop me for a few days, although it is not unusual to see dog walkers with nets over their faces to keep the bugs away. Also, there are doggie stations posted where you can grab a sack and toss the "job" you went out to make sure got done.
All are welcome on the trail!