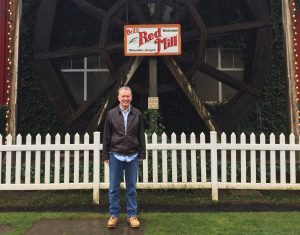 I really like the people and the food at TnT's Coffee and Café in Madison, and one Saturday morning I tried their Fat Elvis Oatmeal. The touch of peanut butter and chocolate chips are nice, but it was the thick and flavorful oatmeal that made the meal. The instant stuff pales in comparison. I started searching for something as good that I could make at home, and I found Bob's Red Mill thick rolled oats at the Willy Street Co-op. Apparently it sells out constantly. I checked other Madison grocery stores and struck out.
When I visited my daughter on the west coast recently we made a trip to Bob's Red Mill in Milwaukie, Oregon. I expected to find a small outlet store, but it was to oatmeal what Wisconsin Dells is to fudge—big crowds, a restaurant, tours, and a huge store.  I was thrilled to bring home a good supply of thick rolled oats.
A few days later, back in town, I glanced at the cereal shelf at Pick 'n' Save. Guess what was in stock?