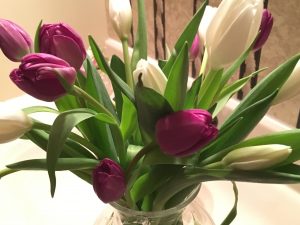 Magic 98 had its first ever Women's Wellness Retreat this past weekend. It was a chance to get away from the everyday hazards of life and take care of your inner well-being. I've been thinking a lot about how important it is to do this on a daily basis.
How you take care of you is as individual as you are. Some have found yoga and/or workouts as a way to meditate and let go of the "not important." Others may find an outlet in art or music. I'm one of those who tend to find solace in nature, so I do a lot of hiking and bird-watching. I also feel very connected to the earth, and I am so relaxed and at home when I'm on hands and knees in the dirt, planting seeds or cultivating a garden.
I think all of us should treat ourselves to something wonderful or out of the ordinary every day. Even if that means just reading a chapter in a good book we discovered, or getting a manicure that we haven't treated ourselves to in over a decade. My mom enjoys adult coloring books and will always take time to color one or two pictures a day. So, while I was at the grocery store on a random Tuesday, I walked past the refrigerated flower display and decided I would treat myself to something beautiful. Tulips are my second-favorite flower next to lilacs, and it just so happened that they had two of my favorite colors available. They had yellow and red and orange, colors I am naturally drawn to, but when I saw the lavender and white tulips, I couldn't help but thinking how beautiful an arrangement they would make anywhere in my home.
These flowers are beautiful and make me happy. They may only last a week, but their aesthetic and their true commitment to their purpose in life moves me. They are here for me to appreciate their beauty. When I do that, I receive my daily wellness retreat. That is my wish for you.