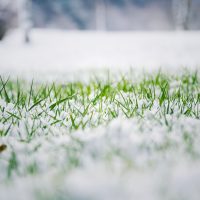 This week's spring snowfall brought up a memory from my childhood.
My birthday is at the end of April, and one year it snowed on my birthday. As a kid in the Midwest, I knew it probably wouldn't totally ruin the birthday party that was planned for the same day, but it was still shocking and upsetting to see.
Growing up, my single, 40-plus-hour-a-week working-mother-of-two always made our birthdays special. We got to have a party with family and usually a special outing or sleepover with friends. She made sure that we had sweet treats to share with our classmates, and if we went out to eat, we got to pick our favorite restaurant.
The house I grew up in had a large front yard, and whenever we had family gatherings, the kids always ended up outside. We'd unload bikes, chalk, baseball bats and gloves, croquet sets, and anything else we could carry out of the garage and turn our yard into a playground that most recess yards would envy. The house I grew up in also had a large, unfinished basement that my mom lovingly called "the Dungeon," so you can guess where I thought my birthday party would end up on that snowy April morning.
The sun that day was more powerful than we've seen in Madison this week. The snow melted before our guests arrived, and we were playing croquet with plates of cake in the front yard by the end of the day. I haven't had to deal with snow on my birthday since that year, and I hope to keep it that way.
Happy birthday month, fellow April babies… and thanks, mom, for making every birthday a year to remember (even the snowy ones).