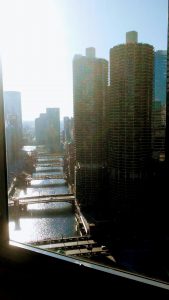 Thirty-five years ago this month, Ann and I honeymooned in Chicago, back when we were young and broke. For our anniversary, no longer young and no longer broke, we decided we'd go back for a weekend.
We started on Saturday afternoon with lunch at Giordano's with a big ol' Chicago-style pizza. From there, we walked to the Museum of Broadcast Communications for SNL: The Experience, an exhibit on the history of Saturday Night Live. It's pretty fabulous, taking you through a week in the life of the show, from the writers' meetings on Monday through the building of sets and designing of costumes, to rehearsals and finally, showtime. All along the way, it's loaded with costumes, memorabilia, and video. No matter which era of SNL is your favorite—Aykroyd and Belushi, Carvey and Hartman, Ferrell and Oteri, or the current cast—you'll enjoy it. It's open through December 31 and is worth a road trip. Your ticket to the SNL exhibit also includes the regular exhibits at the Museum of Broadcast Communications, which are Chicago-centric but cover the history of radio and especially television in fascinating ways,
That'll be hard to top, I thought. Until we checked into our hotel, where we were upgraded to a suite on the 38th floor of the 39-story building. We got up there to find that it was bigger than our condo in Middleton, with enough space to seat 25 people in the living area (no joke) and spectacular views of downtown Chicago. The slightly fuzzy picture you see with this post is one of the views we had from up there. The towers on the right are Marina City, which was one of the first mixed-use (retail and residential) developments in the country, built back in the 60s. It was also the location of Chicago Top 40 radio station WCFL, a favorite station of mine when I was young, one that no longer exists. The House of Blues is located in Marina City, and that was where we went for dinner on Saturday night.
Sunday morning we went back to Marina City to Yolk, a breakfast chain located only in Chicago, Indianapolis, and Dallas/Fort Worth. I thought maybe that was going to be my favorite part of the weekend (seriously—it was that good), until we went on an architecture boat tour on the Chicago River. If that doesn't sound interesting to you, hold up—it really was. As we went up and down the river, our tour guide pointed out the buildings along the way and their history. It was an unusual frame for the history of the city itself, and a fascinating way to see it.
We wandered around at Navy Pier after that before hitting the road for home. Did we visit a couple of breweries along the way? Do you even have to ask?
Brewery stops are always a good part of any weekend. But as we were driving home, Ann asked me which was my single favorite part of our anniversary weekend. I couldn't decide then, and I still can't.