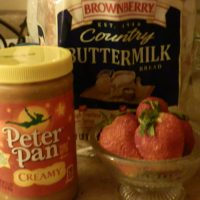 I really love to share something if I have found it to be more then wonderful. With an eye on putting better food into my body these days,  it is with great pleasure, and a little pomp and circumstance, that I recommend this latest breakfast! Toast, peanut butter and sliced strawberries. Satisfying and delicious!
Sara Freeman assures me that stirring up real peanut butter is worth the effort, so I will certainly try it. However, Peter Pan peanut butter has no satanic high fructose corn syrup (it still tastes like kindergarten to me), and Brownberry buttermilk bread is my favorite bread.It freezes splendidly and one slice is plenty filling.
Not every batch of strawberries is as sweet as we would like, but they still taste marvelous resting on creamy peanut butter. I bet you'll love it too!