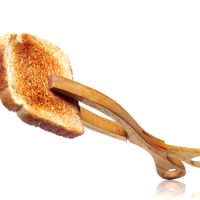 I grew up using a toaster oven rather than a slot toaster, and until last year, I had never owned a slot toaster. I was frustrated that I couldn't find a good toaster oven anymore. I either got black toast in 30 seconds, or it took seven minutes to toast. So I went radical and bought a slot toaster. It's not wonderful either, but I'm tired of spending money on toasters. My son likes mini-bagels, and I enjoy English muffins on a regular basis. In a toaster oven, it's no problem to get anything out without burning your fingers, but a slot toaster is a different animal, especially if you toast short items.
About a month ago, as I was trying to remove a mini-bagel from the toaster, I found myself yet again swearing in my head and burning my fingers trying to get it out. I'm smart, so I didn't stick the knife in there, but the thought did cross my mind. Then, my Grandma Bernice popped into my head. When I was a kid, I spent a good amount of time at her house. I'm an only child, and on that side of the family, I'm the only grandchild. So boy oh boy, did she love me. I miss her a lot. She passed away the year before I met my husband, and I really wish she would have lived a few more years so I could have gotten cooking lessons, and she could have met my family. She was a tough lady, but she had a soft spot for me. My grandpa had polio as a child, so they had to rely on businesses for their livelihood, rather than hard-labor jobs. They ran taverns and other businesses.
My grandma was a fantastic cook, as she ran the meals at the tavern and later, a hospital kitchen. As a kid, I wish I would have paid better attention to the cooking tips and tricks she would try to teach me. But one thing I remember was her wooden toast tongs! I think hers were bamboo. She always had a slot toaster, and I remember her giving me the talk about not sticking a metal knife into the toaster oven, but to use the toast tongs!
Yes! Thanks, Grandma! That's it! I hadn't thought about toast tongs in 20 years, but you bet I went right on the computer, and in two days, I had my own toast tongs! Bye-bye, burning fingers! Now I think of her every morning when I use those tongs while making breakfast for my kiddos.
With Mother's Day nearing, take the time to think about all the mom tips and tricks you have gotten over the years from your moms, grandmas, and other mother figures. Be grateful for them. Whether it was an amazing life lesson, or something simple like wooden toast tongs, so much of our root knowledge of the world comes from all of the mothers in our lives. If your mom is still here, tell her how thankful you are. If she is no longer by your side, remember the lessons she taught you. Those never leave you.