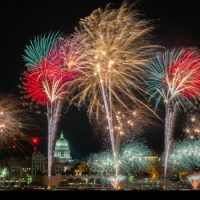 The official start of summer is just around the corner, and Magic 98 has the info you need to enjoy the most precious months of the year! On the Summer Scoop, you'll find a list of Madison-area 4th of July firework displays, festivals, carnivals, and more. Start planning for the dog days of summer, and be sure to download the Magic App and bring Magic 98 with you this summer wherever the adventures take you!
FARMERS' MARKETS
The 2018 season is underway…
Dane County Farmers' Market
Wednesdays 8:30AM-1:45PM (thru Nov. 7)
Martin Luther King Jr. Blvd
Saturdays 6:15AM-1:45PM (thru Nov. 10)
Capitol Square
EBT Available
Hilldale Farmers' Market
Wednesdays & Saturdays 8AM-1PM (thru Nov. 4)
Returning to it's original location, behind L.L. Bean, off Segoe Rd.
Click here for a full list of area markets.
MADISON LAKES AND BEACHES
Click here for the latest updates on Madison lake and beach conditions.
Click here to connect with the Public Health website for more beach alerts.
4TH OF JULY FESTIVALS AND FIREWORKS
June 29-July 4 Whitewater 4th of July Festival
June 30-July 1 A Lake Leota 4th
July 3-4  Monona Community Festival
July 3-4 Shorewood Hills
July 3-7 Columbus
July 4 WaunaBoom
July 4 Monroe 4th of July Celebration
July 4 Mt. Horeb Boom Boom Triathalon
July 4 Independence Day on the Rock
July 4 Brodhead
July 4-8 Stoughton Fair
More events and information will be added to the Summer Scoop, so check back often!