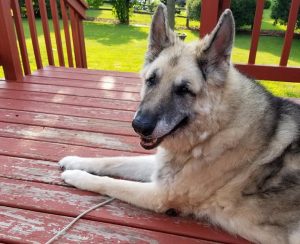 Well, I knew this would happen, but I was hoping for it to be at the end of summer, at least. But it wasn't meant to be. Last week we had to say goodbye to our sweet doggie, Toby. I got such a kind response to the blog I wrote back in April about how we knew the end was not too far away, and how to deal with it with the kids. So, I wanted to update you. Honestly, reading that last blog again, I think rather than wanting advice on how to handle talking to the kids about it, what I really needed was advice for me to handle it. The kids handled it just fine. Me? I'm getting there.
Lykos Tobias Von RoyalAir. That's the official name on his pedigree papers. He was a silver sable, which is a less common coloring for German shepherds. His mama was a white shepherd, and his dad was a gorgeous silver/black shepherd. My husband loves the sable look, because they look more like a wolf. Lykos is Latin for wolf. Toby is what we wanted to call him, so Tobias was used to sound more "official!" Ha ha.
While I am at peace with the decision, my heart still hurts. Once the vet said "he's gone," I just lost it. Sobbed and snorted and everything. I didn't stick around long after that. I didn't want to see him passed. Although that image is still in my head. I'm sure it will fade over time. It was a peaceful passing, and my husband and I were with him for comfort. But man, going in with your dog and leaving with just a leash and collar was pretty terrible. Empty. I set his collar on our piano when I came home, and I haven't moved it yet. We still haven't put his food bowl away. We're not quite ready to erase it all yet. His hair is still plentiful in the house. I admit that is one thing I won't miss, all the shepherd hair!
I have found that the hardest thing to let go of is the routine. I still have a fleeting moment when I get up in the morning when I think I need to let Toby outside. I didn't realize how much he was always around me while getting everyone ready in the morning. Sadly, the thing I probably said to him most during his life was, "Toby, move!" or "Toby, look out!" His 100-plus pounds were in my path a lot. But now I miss it. The first night, Scott and I commented on just how quiet it was. Toby always slept by our bed on the floor next to me at night, and I was so used to his panting and sleeping noises. I guess it was like white noise to me. That first night going to bed was one of the worst times for me. He wasn't there next to me anymore, after 12 years. And it was so quiet.
We still have three cats, and that helps. My Bella girl-snuggles have eased the pain at times. I know so many of you have gone through this same thing, and my heart feels for all of you. I'm grateful to the support of my Magic 98 family. We are all animal lovers around here, dogs especially. I came to work after we said goodbye. The hugs and kind words were what I needed. Magic 98 is full of truly good-hearted people. It's not an act. No wonder our listeners are all heart, too.
We have decided to be just a cat house for now (three cats is still a full house!). We're not ruling out a future dog member of the family, but we are not actively searching. If there is a dog meant to be ours, it will happen.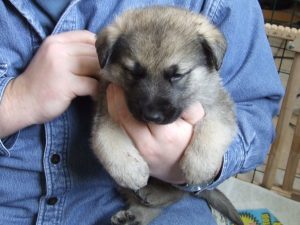 The picture on the left is from the very first time I met Toby. At the top of the page is the last picture I took of him, the morning we let him go. It was a beautiful morning, and Toby and I hung out on the deck, enjoying the fresh air in our lungs. He was smiling.
What soothes me is that I know we gave him a good life. He had lots of love and enjoyed herding us all around. He lived free from abuse and hunger. So many dogs don't get that. I'm proud and happy that we did that. He was my first dog. He was a kind soul. Rest in peace, my sweet doggie. I hope you're enjoying Rainbow Bridge. Now you can make it up on the couch again, I'm sure!