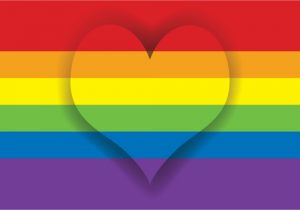 One of my social media profiles reads, "Loud, proud, born 'n bred Midwesterner." It won't take you long as you scroll through pictures of my dog, pictures of my houseplants, snippets of my Madison adventures and life at Magic 98, and more pictures of my dog, to realize that the word "proud" holds more than one meaning.
Above anything you'll see on my social media, what I'm most proud of is the fact that I can say I'm Leah's person. Leah is my fiancé and like any fool in love, I could gush about her all day. Although I won't, because I want to gush about you! Yes, you.
It's LGBT Pride Month and it's important to me that you know how thankful Leah and I are to have your support and acceptance. Through the years, there have been people in my life who have not shown support and acceptance, so while your support may not be "loud and proud" like my social media bio, know that the love and acceptance you have shown us since we moved to Madison is something that we see, we notice, and we do not take for granted!
Thank you. For being you! And for accepting me, as me. Happy Pride Month!
P.S. Something that I look forward to each Pride Month is Billboard's collection of "Love Letters to the LGBT Community," written by some of your favorite Magic 98 artists including Meghan Trainor, Sara Bareilles, James Bay, Carole King, and more to come. To read, click here.
Reach out to me anytime on Facebook or e-mail me at Jillene@Magic98.com.