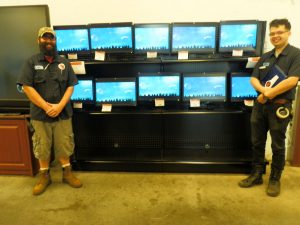 One of Verona's hidden treasures is not so hidden. It's just that it's got tight hours. It's not a big secret, just not shared a lot until now. SWAP does not stand for Smart Women at Play, but it could! Salvage With a Purpose is the real name, and on Friday mornings at 8AM you will often see the line (containing smart men too) waiting for those hallowed doors to be thrown open. You have until 2PM to make your purchases and gleefully tote them away. It's different every week. I always see  chairs there, computer anything, office supplies, weirdo machines from labs, jars, office furniture, file cabinets, air conditioners, rain barrels, small refrigerators, maps, and things you could never guess. Sometimes they have bikes, blankets, camera equipment, or shelving. All three of my desks are from there. The most expensive one was the one with my pull-out draw light table for just $30.00.
Here is the scoop: you go in, you find a "blue shirt" who will put a strip of tape on the item you want, with your name on it. That holds it for 10 minutes while you fly around the warehouse and see what else you can get a deal on. (Friendly helper blue shirts Ben and Billy are in the photo with all those reasonably priced monitors.)
SWAP takes major credit cards and help you put your purchase in you vehicle. They also have a website where you can shop, but it's more fun to go if you ask me. I got an adorable little table for $5.00 on Friday morning, and I had my breakfast on it the next day.
SWAP is at 1061 Thousand Oaks Trail in Verona. Warehouse manager Rob Johnson is at 608/497-4422 if you have questions or need directions.