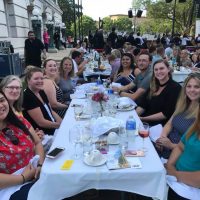 You've never seen Concerts on the Square the way you will with Magic 98. Each week, the Magic Crew hosts four lucky winners and their guests at table 75 – right up front near the Wisconsin Chamber Orchestra, where they enjoy drinks, dinner, dessert, and of course, the music!
The 2018 Concerts on the Square season is on through Wednesday, August 1. Sign up to join us at next week's Concert!
CLICK HERE TO ENTER.
Congrats to our winners so far…
July 18: "Don't Stop Believin'"
Pamela Bracey from Madison
Lisa Chen from Madison
Kimberly Payette from Madison
Melissa Hauer from Verona
July 11: "Slavic Dances"
Sarah Wilson from Stoughton
Jenny Lane from McFarland
Sue Riley from Sun Prairie
Jennifer Krug from Madison
July 4: "American Salute"
Duane Acker from Fitchburg
Mary Digney from Madison
Tony Schwoob from Dodgeville
Karen Torvell from Madison
June 27: "Carnival"
Amber Drake from Mt. Horeb
Jamie Landsman from Verona
Melanie Zimmerman from Madison
Jessica Kurtz from Madison