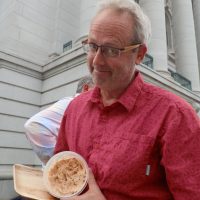 A few weeks ago at 
Concerts on the Square,
Magic 98
fan and friend,
Kurt Sonnenburg
, stopped by
Magic 98
's VIP table to share his fantastic salmon spread. He and his wife, Monika, set up a brunch table to write home about! He could open his own restaurant. Every one of our guests loved the salmon spread and wanted to know how to make it themselves.
Kurt
promised to get me the recipe and I promised to make sure it got posted for everyone else!
Kurt
says that the key is the smoked salmon, and he uses the kind pictured here from
Costco
. Other tips: this salmon shreds very easily using two forks. When selecting a piece of smoked salmon, it should be moist as possible, and dry smoked salmon simply doesn't work.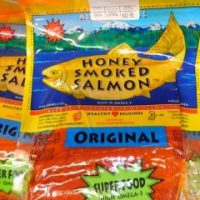 Start with a large stirring bowl. Make sure all ingredients are cool, then thoroughly mix the following together…
Salmon, shredded. About 1-2 cups
Mayonnaise (Hellman's). 1/8 cup
Horse Radish – 1 tablespoon
2 large shallots, cut and sauteed
1 slice of Vadalia onion, cut into small pieces, sauteed until brown
Cholula hot sauce – about 2-3 dashes
Garlic – Kurt likes to use the fresh garlic in a 4 oz. squeeze tube by Gourmet Garden (refrigerated)
Penzeys Smoked Paprika – 2 dashes
Semi-course Black Pepper (optional)
Lastly, carefully fold in one (1) small tub of Philadelphia Cream Cheese with Chives (Kurt pre-whips it with a fork before adding to mixture) and serve with plain crackers. Enjoy! And be sure to thank Kurt next time you see him at Concerts on the Square!