Having been interested in commercial art since high school and even starting my career in that direction, I take real delight when anyone does a good job of it. I had my very first job at
Dunkin Donuts
. I thought I was doing well  and I was fired within a week.  My boss said I was too friendly.  What the…..? However, I have never held it against him, I think it's funny.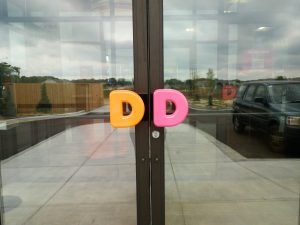 These double "D" door handles to open the double doors of the new
Dunkin Donuts
in Stoughton seemed so very clever! Not only that, they were open as I was making my way to
Magic 98
on Sunday morning! Excellent coffee at 5:30AM! Gotta love that!