As an only child, I have been lucky enough to gain several "surrogate siblings" in my life. Some since birth, others made during different stages of my life. One of my "framily" comes from my musical history. I was in the Green Beret Marching Band from Janesville for 10+ years. I joined when I was 11, as a member of the color guard, and soon found myself among friends. We all traveled thousand of miles together in a school bus, traveled to places that we wouldn't have seen otherwise (plus we got to visit them with our friends), slept on dozens of gym floors together, and formed decades of memories.
While I had many friends over the years, there is a handful who I became extra close to. We have been through the teen years together, graduations, been in each other's weddings, welcomed the spouses to the group, and then, all the babies who came along. We are all still in Wisconsin, but split apart by hours in some cases. The core group of six friends has grown to a group of 19, with all of the spouses and kiddos thrown into the mix.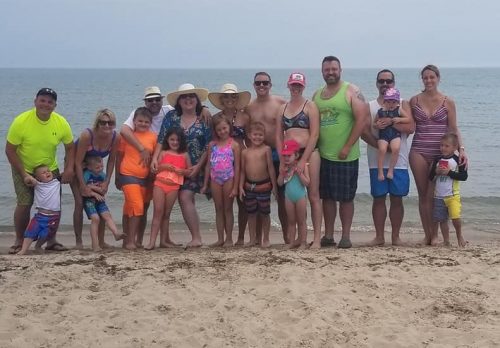 With all the busy schedules, we decided about five years ago to book a long weekend at a cabin somewhere in the summer so we can all actually see each other! It's been awesome. We reminisce, make new memories, and watch our kids become friends. Here's a picture of our group this summer at Lake Michigan. Love all of those crazies.
It's easy to take friends for granted, but you can't make new old friends. If there is somebody special to you who you haven't seen in a while, make an effort to do so. We are all busy, but it's important to have these relationships, otherwise what is the point of existing on this big old planet? The older I get, the more I appreciate my friends, especially the ones who are still with me after all the different stages of my life. Treasure them. Let them know you appreciate them. Nurture that relationship. Friends are the family we choose. Let them know that you still choose them.
Hear Julie Jacobs weekday mornings with Pat O'Neill on the Magic Morning Show from 5:45-9AM (she'll be back on noon-3PM after Lanette Hansen returns from maternity leave!).