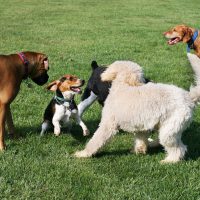 I have a lot of friends who are always looking for different ways to have fun with their dogs. Socializing with other people and dogs is a great way to create a well balanced pet. So, in this edition of Ginger's Dog Blog I decided to put together a list of dog and people friendly events that are coming up during the month of September.
If your organization, rescue or business is throwing any type of dog friendly event in the coming months and would like it to be featured on Ginger's Dog Blog, just email me at Ginger@Magic98.com with the details. Let's get out with our pups and have some fun!
Find more of Ginger Martin's blogs here.