October 11 is recognized as "National Coming Out Day." If we're friends on Facebook, you may have read my story in the past. It's something I've shared before. I don't share it to pressure anyone to come out. I share it so that you know that I was scared too – and I made it. 
My 'coming out' story doesn't include one particular A-ha moment in which I realized that I wasn't straight. It doesn't start with memories of my childhood and a big realization that I was different. What's great about my coming-out story is that, it's mine, and on National Coming Out Day, I'd like to share more of it with you.
About four-and-a-half years ago, I met the woman who's now my fiancée. Leah was the first woman I ever dated. If I'm being honest, Leah was the first person I ever dated. As a teenager, I didn't chase after boys (or girls). I spent a lot of time wondering what it'd be like to be in a relationship, but I never found a 'teenage fling' that so many people experience in their adolescent years. During college and into my 20s, my career and dreams of working on the radio were put before friends, family, and most other relationships. It wasn't until I moved away from my hometown of Minneapolis, started working in radio full-time, and experiencing life on my own, when things began to click.
The first time I realized I had feelings for a woman, I wasn't completely surprised. But, I wasn't overjoyed either. I was scared, nervous, curious, cautious, excited, and a ton of other emotions that you can't match with a word. My family's beliefs and faith made it so that scared was an emotion that stuck around for the first part of my story. It is, perhaps, why I never discovered this part about myself before I moved away from home. Growing up, I went to church most Sundays, prayed before every meal, and didn't know any (openly) gay people. When I first realized I had feelings for a woman, it's not like I had someone to call and ask for advice on how to navigate through them. With the support of my brother and a few close friends, I stumbled through coming to terms with this part of me, the part that was attracted to women.
This part of my story is almost too cliché. As soon as I began to come to terms with the true me, and almost as soon as I actually stopped looking for love (that'll happen when you realize you're looking for love in the wrong gender), it found me! When I least expected it, Leah walked into my life. As the story goes, from that point on… the rest is history.
When it came time to truly come out and tell everyone: my family, my friends, my coworkers, my audience on the radio station I was working on at the time… I was, you guessed it, scared. I lived in a small town in Iowa, and I'll admit that I had stereotypes about what that community would think of their beloved country radio personality who was now openly in a relationship with a woman. I was afraid that my family would disown me. I was scared that I'd lose friends because of some secret I was keeping, a secret I didn't even know I had.
As scared as I was, I did it. I came out. I talked with a few people directly… my mother, my cousins, auntie, best friends… and had conversations that I'll never forget. I shared a post on Facebook that went out to the rest of my friends, extended family, acquaintances, people I knew in high school, people I had worked with in the past, and strangers I had been talking to through the radio for years. I was anxious, nervous, and fearful to hit "post" and share that I'm in a relationship with a woman. But, I did it.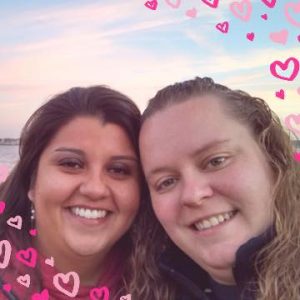 And you know what? People were very supportive. They were very loving. They thanked me for my bravery! Me, brave? But, I was so scared! Were there people who didn't accept this new piece of information about me? Yes. But you know what? That's okay. Over the years I've learned that it's not about those people, not in the least.
"Some will accept your love, while others will not. This is their problem, not yours." (Master Choa Kuk Sui)
Take it from me, you don't have to pick a label. You don't have to pick a letter in the "LGBTQIA" acronym. You simply need to pick your truth. Pick your truth, stick to it, and be free.
My 'coming out' story – my love story, really – is one that is still being written. I share it with you, not to add pressure to come out and share your story. It's your story to share and you should do it on your own time. Hopefully, my story and others like it will make it easier for those who are scared. If you see a bit of your own story in mine, I'm here to tell you that I've faced the scary stuff. If I would not have, I wouldn't feel the freedom that I feel now. Getting through the fear, to get to the freedom I feel now about who I am and who I love, has been 110% worth it.
Thanks for reading my story.
Hear Jillene weekday afternoons from 3-7. Read more of Jillene's blogs here.