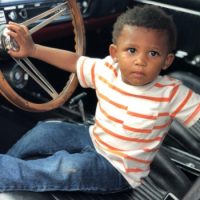 Magic 98's new Kid of the Week is two-year-old, La'Renz, from Madison! He was nominated by his mom, Tasha, who says… "La'Renz is such a outgoing toddler. He is very helpful, and always wants to tend to his eight-month-old baby sister. La'Renz enjoys watching toddlers driving Big Wheels and Power Wheels on YouTube. For such a young boy, he has an attitude that's out of this world! Something that our family just laughs at because he is so silly. You gotta love this guy! He's perrrrrrfect!"
La'Renz has won $25 for his piggy bank from Madison Property Management and treats, including a free family tub of Classic Caramel Corn, from Rural Route 1 Popcorn. His picture will be featured on Magic 98's website and the Magic 98 Facebook page all week!
To sign up a kid in your life to be our next Kid of the Week, click here. To see the Kid of the Week Hall-of-Fame, click here.