I'm a "feelings person." Meaning, when something feels right (or wrong), that feeling is often the only reason I need to go through with that thing (or not go through with that thing). When I look back at certain moments in my life and big decisions I made, it turns out that the initial feeling I felt about the moment or decision. . . was usually right.
When I think back to the first time I met Pat O'Neill, I remember there being a lot of feelings. In radio, your reputation precedes you, and Pat has a good one. Like, a really good one. I was very excited to meet him and plead my case that I was a good fit for Magic 98. I was nervous, because I didn't know how many other people were in the running and I really wanted this job and to work with (he'll hate that I call him this) a legend! I was relieved. . . that he was an obvious radio genius and someone I could learn a lot from, but even better – I had a feeling he was one of those really, really good human beings. The kind that are sort of rare in the way that they put others before themselves.
Throughout my career, I've learned that more than anything, it's important that I work alongside the right people. I think that's important for anyone. . . that you feel valued, supported, and free to do your job and let whatever talents you have — soar. And when I met Pat, I knew I'd met the right person and found my next dream job.
Throughout our next couple months of "courting," as we call it, it became clear over and over again that Pat O'Neill was the person I wanted to work for (or 'with,' as he says) and learn from. I wanted to call Magic 98 home, and I had a feeling I'd end up here. But it took a long time. Pat made sure it was the right decision – for both of us. He wanted to make sure that I was the right fit for Magic, and the right person to be your companion during the afternoon.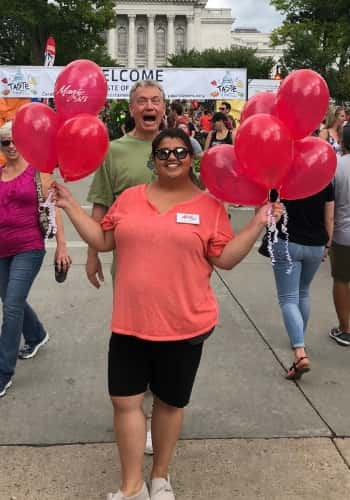 Although I've known Pat the least amount of time when you compare it to the rest of the Magic Crew, the impact he's had on my career – and on my life – cannot be measured. And the feelings I had when I first met him? They were 200% accurate. Patty-O is a genuinely good person who has seen me laugh and cry, he's one of the most caring co-workers I've ever had, and he has invested his own talents into helping me become a better radio personality. My measly one year with Magic 98, compared to the decades many others have spent with him here, while short in time, will have a lasting effect.
The things I've learned from Pat – both directly and indirectly, have undoubtedly helped shaped my career. He's made me a better broadcaster, he's made me believe in my talents, and he always leaves rooms for fun and laughter, even on the busiest of work days.
As bittersweet as it is to see him go, I'm trusting my feelings. . . of excitement for him & his family and their new adventure. . . a few nerves about his absence in our daily lives but certainly not lives. . . and the thrill for his new team to be able to experience the magical person that is — Pat O'Neill. 
Read more of Jillene's blogs here.