This is a tough week. Pat O'Neill is leaving Magic 98 after 35 years as it's maestro. Despite his confidence and talent on air, he really is a humble guy who does not like all the attention he's been getting, but I don't care. I'm going to throw some attention his way right now.
I first met Pat in 2000. I had graduated from Carroll College in 1999, and then went through the Radio/TV Broadcasting program at Madison Media Institute. While at MMI, I landed an internship at Q106 here at Midwest Family Broadcasting. When I finished MMI in the spring of 2000, I was looking for a job! I saw a posting online for part time work on Magic 98, which was just down the hall from Q106. Oh boy! I had no idea if I could pull that off, with no real on-air radio experience except on college radio. I mailed in my demo tape and resume (too shy to go give it to him directly even though I was in the same building!), and got a phone call from the man himself. He wanted me to come in for an interview. I remember the first time we officially met, he shook my hand and I sat on the office couch for the first time and had a nice chat. I remember being so nervous that I was meeting Pat O'Neill! Amazingly, he hired me. Overnight weekend shift. Wow! My first radio gig! 
I left Magic in 2001 for my first full time radio job, but was let go in a mass downsize less than a year later. I sent Pat an email to tell him the news, and without hesitation he told me to come back to Magic on the weekends. I stayed until 2002 when I made a career change. But, radio always pulled me back. I share all this history because I didn't realize as a 23 year old young lady, what a big deal it was that Pat O'Neill saw something in me to give me that shot fresh out of college on Magic 98. He's pretty picky about who he puts on Magic, which is a good thing, but I didn't have that full understanding then. I do now. I really was spoiled having him as my first boss. No other radio boss I ever had held a candle to him. He taught me such good habits, which I took with me to all the other stations I went, and was always a bit shocked when others didn't have those same basic good habits he had instilled in me. Even as a part-timer, he took time to sit with me, pop my cassette tape air check in the boombox to critique and give me advice on how to improve myself. He really is the top of the heap. Magic 98 is the cream of the crop, and so many stations around the country aspire to be like Magic 98, and that's no joke. It's because of Pat and the high bar he has set for Magic since it first began.
Selfishly, I don't want him to leave. Coming full circle and joining Magic 98 last year again has been special. I told Pat I was only coming back to full time radio because it was him and it was Magic 98. And now he's leaving me. I wish that 23-year-old Julie would have been wiser and realized what she had and never left, because then I would have been able to work with him for 18 years instead of about 3 total. But, I am also proud of him. Most thought he would be with Magic until he retired, but nope. He is jumping in to another radio gig, which I assume will be a station that he will greatly improve with his skills and dedication to quality.
I'll miss his dry humor. We share that same kind of humor and man, can he make me laugh. I hope his new station enjoys that wit.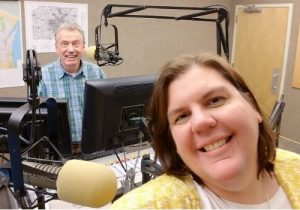 So, thank you Pat. I don't think you even realize the influence you have had on my radio career. You are my radio roots. Thank you for giving me confidence when I didn't always feel it in myself. You have always been a cheerleader and positive influence on me and my talent. You see it better than I do most days.  Thank you for trusting in me to be your morning partner this summer when Lanette was on maternity leave. Even though I didn't like getting up at 2:30 am at all, everything else about it was great.  Thank you for making me laugh. Thank you for my Magic 98 family. Now I need a tissue, darn you.
You'll sure miss us.
Hear Julie Jacobs, weekdays from noon-3. Read more of her blogs here.