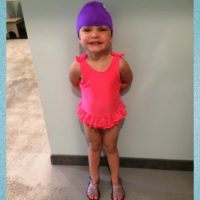 Magic 98's new Kid of the Week is three-year-old, Brooklyn, from Verona. She was nominated by her grandma, Deb, who says… "My adorable granddaughter, Brooklyn, loves blowing bubbles and making waves at her swim class and in the bathtub! We recently went to Disney World where she became Ariel the Mermaid by swimming every night at the Contemporary Hotel's pool. She is a happy, energetic and she makes you feel so good when you are around her you can't help but smile. Just keep swimming Brooklyn!"
Brooklyn has won $25 for her piggy bank from Madison Property Management and treats, including a free family tub of Classic Caramel Corn, from Rural Route 1 Popcorn. Her picture will be featured on Magic 98's website and the Magic 98 Facebook page all week!
To sign up a kid in your life to be our next Kid of the Week, click here. To see the Kid of the Week Hall-of-Fame, click here.