In this busy world, making yourself a priority for some "me time" isn't always easy. It's darn near impossible most days, so Magic 98 wants to give you the perfect excuse to focus on yourself with the Magic 98 Women's Wellness Retreat 2019 on March 2 and 3rd, 2019!
This year, we want you to tap into your creative side. Maddie Strong Studios will help you create two projects that are yours to keep. Maddie Strong Studios is based in Milton, and a portion of proceeds from the studio are donated to local pediatric cancer patients, their families, and organizations which support them.
You will get to stay at the gorgeous Madison Concourse Hotel and Governor's Club, and will be greeted with a gift from WiscoBoxes when you arrive. All retreat events will take place at the Concourse, so you don't even have to leave if you don't want to! You can go out on the town Saturday night, or you can hang out in your PJs in your room. It's up to you!
The cost of the Magic 98 Women's Wellness Retreat is $198 per person (based on double occupancy). Your overnight stay at the Concourse, meals, WiscoBox, and art workshops with take home projects from Maddie Strong Studios are included in that price. The deadline to register is January 31st, 2019.
The Magic 98 Women's Wellness Retreat – March 2 and 3 – thanks to La-Z-Boy!
For more information, including an itinerary of the Retreat activities, and to register, click here!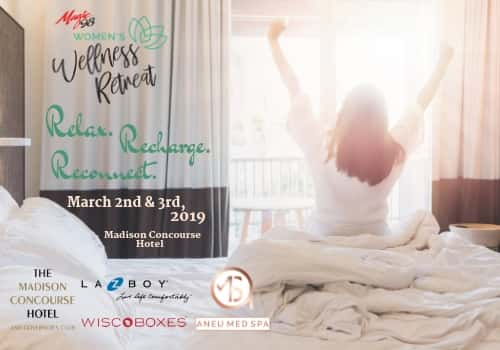 Below are examples of a couple art projects you can create with Maddie Strong Studios. . . other options will be available, and more info about choices will be sent out to those that register before the Retreat.