Since starting a weight loss program, I am in the kitchen more than I've ever been – and you know what? It's been really fun to discover that I enjoy cooking!
One of the snacks I keep making is deviled eggs. It's hard to get sick of them, because there are endless ways to make them!
Here's my favorite combination so far. I use three whole, hard boiled eggs for this recipe. (Let's start with the basics. To hard-boil an egg, my mom taught me to cover the eggs with cold water and once the water is boiling, set the timer for 7 minutes. Immediately give eggs an ice bath and it makes for easier peeling – my mom also taught me that adding table salt to the water helps with peeling. She can teach you too if this is too complicated!)
3 peeled, hard boiled eggs
1 tblsp mayo
1 tblsp Miracle Whip (or mayo again if you don't like the zing)
1 tsp yellow mustard
season with salt, course black pepper, garlic powder. . . then, get creative!
Options:
add minced dill pickle
mix in sweet onion and chives
top with crunchy bacon bits and green onion
mix in diced jalapeño and bacon
you could use Dijon mustard in place of yellow
… or just dust with paprika!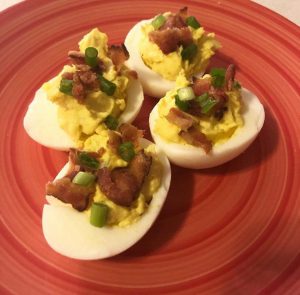 You really can't go wrong with deviled eggs… and you definitely don't have to wait for the holidays or summer cookouts to enjoy them! Share your favorite combinations with me at Jillene@magic98.com.
Connect more with Jillene Khan by clicking here!
Find more recipes from the Magic Crew here.