One of my goals lately has been to try new recipes and get out of my salad/deviled eggs/chicken/salad/deviled egg/chicken comfort zone. This recipe was given to me by the staff at Medithin Weight Loss Clinics. You could get creative with the protein… I used ground pork, but I've heard of some people using chicken or shrimp!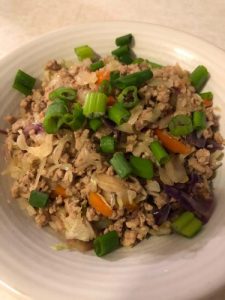 Pork Egg Roll In A Bowl
2 tbsp sesame oil
3 gloves garlic, minced
1/2 cup onion, diced
5 green onions, sliced diagonally (white and green parts separated)
1 pound ground pork (or whatever protein you choose)
1/2 tsp ginger
sea salt and black pepper, to taste
1 14oz bag of coleslaw
1 tbsp Sriracha or garlic chili sauce, or to taste
3 tbsp soy sauce
1 tbsp rice wine vinegar
2 tbsp sesame seeds
Heat oil in large skillet over medium/high heat. Add garlic, onion, and white portion of green onions. Saute until onions are translucent and garlic is fragrant. Add ground pork or protein, ginger, salt and pepper, and Sriracha. Saute until pork is cooked through. Add coleslaw mix, soy sauce, and rice wine vinegar. Saute until coleslaw is tender. Serve topped with green portion of green onions and sesame seeds. Enjoy!
For more recipes from the Magic Crew, click here.
Hear Jillene Khan weekday afternoons from 3-7. To read more of her blogs, click here.