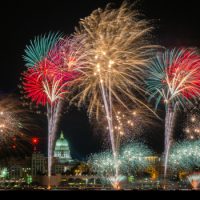 The 4th of July is right around the corner! If you're looking for a fireworks show in the Madison-area, we've got a list for you below. Check back often as more are added!
Edgerton July 4th Lions Club Celebration
July 3, from 4-midnight
Racetrack Park in Edgerton
Monona Community Festival
July 3 and 4
Winnequah Park (1055 Nichols Rd.) in Monona
DeForest 4th of July
July 3 and 4
Firemans Park (500 Jefferson St.) in DeForest
Waunaboom 
July 4, from 2-10:30PM
Ripp Park (213 Dorn Dr.) in Waunakee
Shorewood Hills Fireworks
July 4 at dusk
Blackhawk Country Club (3606 Blackhawk Dr.) in Shorewood Hills
Brooklyn 4th of July Fireworks
July 4 at 9:30PM
Legion Park in Brooklyn
Fire on the River
July 5 and 6
Sauk Prairie
Angell Park Fireworks
July 7
Angell Park in Sun Prairie
For more family friendly events happening this summer in the Madison area, check the Fun Page here.