Here is one of the quickest, really good for you, easy to make dishes you will find this summer! I put it together for me in my ongoing effort to be healthy and get soluble fiber into my diet. I got my cholesterol way down with no drugs at all. This is one of my faves because it's put together and done in 5 minutes! I prefer it cold but that's why it's called "5 Hat Salsa…" it is great these five different ways!
KV's 3 Bean 5 Hat Salsa
You'll need…
1 can tri beans (pinto, kidney & black)
1 can chopped tomatoes
1 cup frozen corn (or more)
Celery seed (3 or 4 shakes)
1 bay leaf (do not eat this)
Onion powder (sprinkle on top)
McCormick's red bell pepper garlic seasoning (sprinkle on top)
Half cup small, scissor cute fresh kale
Sea salt to taste
Add all to large skillet, heat through for 5 minutes.
Hat 1-serve warm over rice
Hat 2-serve warm with cheese melted on top
Hat 3-serve warm with melted cheese on nachos and sour cream
Hat 4-serve chilled with chips
Hat 5-serve chilled as a soup
Enjoy!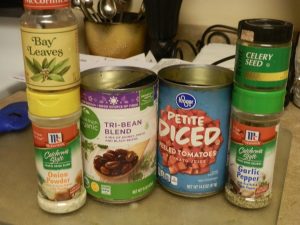 Hear Kathryn Vaughn on Magic Sunday Mornings from 7AM to noon. Read more of her blogs here!
To see more recipes from the Magic Crew, click here.