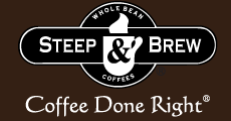 We know you need a break during the workday, so each weekday at 2:30, we give $15 to spend at Steep & Brew. It's the Magic Coffee Break! To enter, just fill out the form below. If you hear your name, call back within 10 minutes and you'll win! Local: 608-321-0098; toll free: 800-708-0098.
Wanna visit Steep & Brew? They're located at 6656 Odana Road in Market Square.
Official rules here.