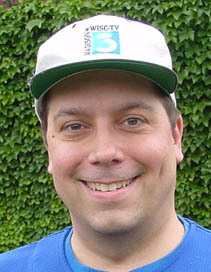 I grew up in: Hoffman Estates, IL (northwest suburb of Chicago), about three miles west of Woodfield Mall.
First radio job:  WNIU-FM, DeKalb, IL.  I did the weather there while in college at Northern Illinois University.  It was a 100,000 watt National Public Radio affiliate.
Why did you go into radio?  For me, radio was in addition to TV but it lets my personality show.
What drives you crazy about Madison?  The weather (just kidding).  Really, there isn't much I don't like.
Guilty pleasure:  Smoky Jon's ribs…best ribs I've ever had.
Favorite Magic artist:  Michael Buble.
Pets?  Our dog "Joe" (you can call him "Joey", or "Joseph" when he's been naughty) is now 3 years old. Through DNA testing, we found out that he's at least 75% Maltese (his father was probably a purebred), with some West Highland Terrier in him, along with a little Pomeranian for good measure. As is the case in many households, taking care of "Joe" is mainly Dad's responsibility, although that works out pretty well, because then he can take me out for occasional walks…or is it the other way around?
I'd give anything to meet:  Tom Ricketts, the new owner of the Chicago Cubs.  He seems like a down-to-earth guy who's also a sharp businessman.