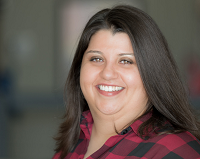 The first thing I do when I meet a new friend is spend at least 90 seconds going over how to say my name correctly. Jillene sounds like Jill-eeeen. Think, Dolly Parton's "Jolene," but "Jo is "Jill." For Khan, think Chaka Khan (or The Wrath of Khan, for Star Trek fans).
I was born in Minneapolis, Minnesota and raised in the 'burbs. My my mother, brother, and most of my family still live in the Twin Cities, so I'm pretty familiar with the I-94 westbound stretch through Wisconsin.
I always knew I wanted to be on the radio. I'm not exactly sure where that dream came from, but I have a few ideas. After college, I was lucky enough to work for Tony Fly, a Twin Cities radio legend and someone I grew up listening to. Once I got my foot in the door at that station, I did anything and everything I could to learn and move up the ladder! It paid off, and eventually I hit the air in my hometown.
In 2010, I moved away from home and relocated to the Quad Cities (eastern Iowa/western Illinois) to be on the air full-time at a powerhouse country station, where I continued to fall in love with radio. After five years on the air in the Quad Cities, I took a job in Milwaukee working on a new country station. That's where I got my first taste of a real Wisconsin Friday Fish Fry, and learned what a "bubbler" is.
What else can I tell you about me? I like to be outside. I like most of your Midwest staples: fishing, camping, anything near the water. I like to try things at least once so I can decide whether I like them or not. I am obsessed with dogs and will probably say "hi" to your dog before I say "hi" to you. I like to travel, but don't get to do it as much as I want to. I love concerts and live music and have kept 95 percent of the tickets to shows I've been to. I love to talk to people, share stories, laugh, and enjoy life!
I'll talk to you on Magic 98 between 3-7PM each weekday, so feel free to call me on the Magic Line at 608-321-0098, send me an email at Jillene@magic98.com, or connect with me on Facebook! (I'm on Instagram and Twitter too.)

When I was in high school, I came very close to missing my senior prom. I didn't have a yearning desire to go, I didn't have a date, and I didn't have a dress. But that all