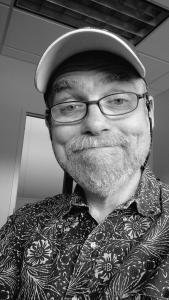 The only thing I ever really wanted to be was a radio DJ. And although I have tried to be other things in my adult life, a radio DJ is still the thing I most want to be.
I was raised on a dairy farm near Monroe, and I went to college at UW-Platteville. After graduation, I worked at several different radio stations in Iowa and Illinois. In the middle of the 1990s, I went back to college at the University of Iowa with the intention of getting out of radio and becoming a social studies teacher. But on the way to my first teaching job, I was intercepted by an educational publishing company in Iowa City, and I became a full-time writer instead. I have worked as a writer and editor, both on some company's payroll and as a freelancer, ever since. In 2000, a corporate education job brought us to Madison.

At one point in the late 90s and early 00s, I went nine years without doing a radio show. In 2006, I got a job working for Mid-West Family Broadcasting on 93.1 the Lake, a station that no longer exists, but remains much beloved by those of us who remember it. In 2008, I started working for Magic 98, and if you are able to read this bio on Magic's website, I apparently still do.
My wife Ann and I have no kids, two cats, eight nephews, three nieces, and Badger football season tickets. We are also craft-beer geeks, so if you see us at the bar, say hello.
---

For most of the last three weeks, I have been in the Indianapolis area working another job I have, so I haven't been on your radio (and thank you for noticing, if you did). I have not