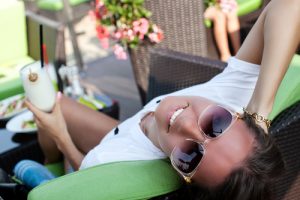 Live life like a big shot when you are Magic 98's Millionaire for a Day! You'll select your dream car for the day at Zimbrick BMW, home of the ultimate driving machine, located at Rimrock Road and the Beltline. You'll cruise to Magic 98, where Pat and Lanette will reward you with one day's interest on a million dollars. Then, you're off on a shopping spree at William Thomas Custom Jewelers, your custom jeweler. While you're doing all that, your home will become magically spotless!

But even after all that, your day will have just begun. You'll get a private aerial tour of Madison from Morey Airplane Company, and work up an appetite getting a massage, facial, pedicure, or whatever you want, from Kneaded Relief Day Spa and Wellness. You'll satisfy that appetite at Bonefish Grill, with the freshest seafood in town, for appetizers, dinner, drinks, and dessert.

Think you'll have had enough by then? Think again. Your next stop is Chicago-Rockford International Airport for a flight to Cancun, Mexico, for an all-inclusive three-night stay at the Riu Caribe, thanks to Apple Vacations.
Here's how to win. Look for the registration form below. The signup deadline is Wednesday, September 27. Then listen at 7:30 on the morning of Thursday, September 28. We'll read a name on the air. If it's your name, call 321-0098 within 10 minutes and you're this year's Millionaire. If you don't call, we'll pick another name, and we'll keep reading names until someone calls back. We're betting it won't take long. (Magic's general contest rules are here.)

Only Magic 98 can make you a Millionaire for a Day!