I grew up in: Oregon, WI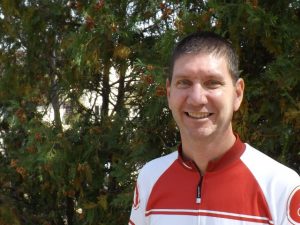 My family: My lovely wife, Laura, and our two cats, Ruby (also known as "Ruby Tuesday" – she's daddy's girl) and Zander (mama's boy – named after Robin Zander of Cheap Trick).
If I was President: Every song on every CD/Record would be clearly listed on the back of the packaging, in numerical order, in print large enough to read, in a readable font.
Music: Cheap Trick (finally in the Rock & Roll Hall of Fame!!!), Marques Bovre & The Evil Twins, Michael McDermott, Michael Franti & Spearhead, Alabama3 (A3), Bob Marley, HK & Les Saltimbanks
My free time: I'm a TRI geek – I love to swim, bike and run. Well, I love to bike and run, I swim in order to get to the bike portion of the race. I've finished 3 Ironman races, about 10 half-Iron distance races (including one in Galway, Ireland), and a whole bunch of shorter races. I've also completed 5 marathons including the 2015 Boston marathon!
Food: Is love! I love pizza, pasta (especially lasagna), risotto, cassoulet, Mexican, Jamaican, Cajun & Creole… and exploring anything new and different.
I love to: Cook! And oddly enough, I also like the clean-up after. If you love to cook, explore this website… www.food52.com
I'm freaky about: Wine glasses and loading the dishwasher. Wine glasses get hand washed (hot water, no soap) and hand dried immediately (wash no more than 2 glasses before drying, with a special towel).  Dishwasher gets loaded only my way – if you load it differently, I will redo it the way it's supposed to be done.
I Shop local: I'm passionate about local business. I don't eat fast food, avoid chain restaurants and shop at locally owned & operated stores whenever I can. Local businesses have more of a stake in the community and better reflect the values, tastes and needs of the community. Buy local!