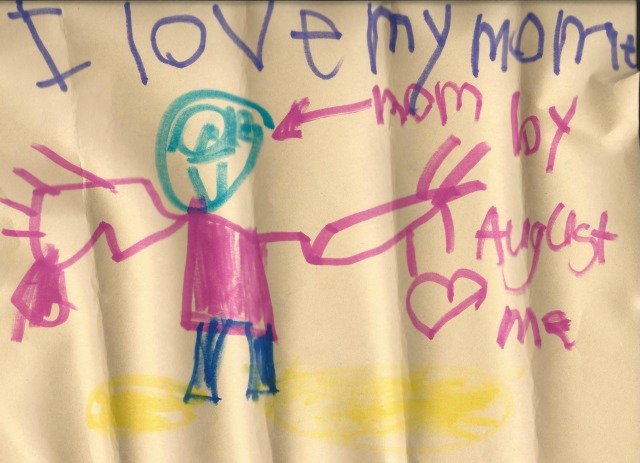 As I sit down to write this bio, so many thoughts run through my mind . . .
Do I talk about my husband Joel and my son August (who drew the picture above)?
Or that I work as a medical coder for a group of cardiologists in Madison full time?
Or that I love to knit and crochet as I watch all my favorite movies (The Princess Bride, When Harry Met Sally, and Planes, Trains and Automobiles) and TV shows (Arrow, Bones, Poldark, and way too many others to mention)?
Or maybe I should mention that I'm glad I bought my iPod when they still made the iPod Classic because my whole 10,000 songs-plus music library will fit on it?
Or that I'm one of those people who will start singing any of those songs, or throw out a movie quote, at the drop of a hat?
No, I think that what I want to discuss is my name . . . Patti. I've always had a love/hate relationship with it. No…I'm not Patricia. Yes…it's "Patti" with an I, not a Y, and certainly not an IE, my most hated spelling! I am not a Hamburger Pattie!
The one question everybody asks, once its mentioned that my brothers are Peter and Paul, "Why aren't you named Mary?"  My mom isn't alive to ask . . .but I'm thinking it's because "Mary" doesn't start with the letter P.